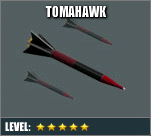 Stat Progression

Edit
Level
Upgrade Cost
Upgrade
Time
Defense Lab
Production Cost
Prod Time
Health
Blast Radius
Damage
Launch #

Travel Time

Cooldown Time
Metal
Oil
Thorium
Metal
Oil
Thor
1
15,000,000
10,000,000
0
2h
7
6,000,000
2,000,000
0
25m
23,760
100
10,000
1
14s
1m 0s
2
20,000,000
15,000,000
0
1d
7,000,000
3,000,000
0
25m
120
10,250
1
14s
1m 0s
3
24,000,000
20,000,000
0
7d
8
8,000,000
4,000,000
0
25m
26,730
130
10,500
1
14s
1m 0s
4
32,000,000
24,000,000
1,000,000
5s
9
10,000,000
6,000,000
100,000
5s
29,700
140
10,750
2
14s
1m 0s
5
35,000,000
25,000,000
1,500,000
5s
9
12,000,000
8,000,000
125,000
5s
32,670
150
11,000
3
14s
1m 0s
6
37,500,000
27,500,000
3,000,000
5s
10
12,000,000
8,000,000
150,000
5s
37,422
150
13,200
3
13s
55s
7
40,000,000
30,000,000
3,300,000
5s
10
12,000,000
8,000,000
150,000
5s
43,659
150
15,400
3
12s
50s
8
42,500,000
32,500,000
3,600,000
5s
10
12,000,000
8,000,000
175,000
5s
49,896
150
17,600
3
11s
45s
9
45,000,000
35,000,000
4,000,000
5s
10
12,000,000
8,000,000
200,000
5s
56,133
150
19,800
3
10s
40s
10
45,000,000
37,500,000
4,000,000
5s
10
12,000,000
8,000,000
200,000
5s
62,370
150
22,000
3
9s
35s
Total
336,000,000
256,500,000
20,400,000
8d 2h
Appearance Progression

Edit
Related Missions

Edit
STANDARD MISSION
Mission
Icon
Mission Description
Awards for Completion
Metal
Oil
Medals
Unlock The Tomahawk
40px
Unlock the Tomahawk Missile In Defense Lab.
10,000
10,000
 0
Some Missions May Not Be Available Until The Completion Of Others.
Additional Facts

Edit
The Tomahawk Missile gained the ability to be Upgraded to Level 10 in the Game Update: May 14, 2014.
The Tomahawk Missile received a Health Increase to all 10 Levels in the Game Update: Jun 4, 2014.
The Tomahawk Missile requires Thorium to produce and upgrade from Level 4 onwards.
The Tomahawk Missile Thorium levels launch multiple Missiles at a time with a maximum of 3 at level 5. ( See Table ).
All Missile Silo Missile's received a across the board substantial increase in Health.  This occured in an unannounced Game change in April 2014.
In-Game Quotes

Edit
Click Expand to View Additional Quotes
"

The armor piercing Tomahawk inflicts crippling damage on enemy ground vehicles and troops within a target radius.

"



 

— In-Game Description 
"

LITTLE BIGHORN - Slice through enemy vehicles with this cruise missile, Commander.

"



 

— Level 1 Message 
"

MISSION - Want to blow up enemy vehicles? The Tomahawk Missile is perfect for the job. Unlock it now in the Defense Lab.

"



 

— R.U.B.I. - Mission - Unlock Tomahawk Missile 
"

MISSION - Enemy vehicles don't stand a chance!

"



 

— R.U.B.I. - Mission - Unlock Tomahawk Missile - Complete 
Related Pages

Edit
External Links

Edit
Gallery - Ingame Animation

Edit
Images may have been resized to fit in the page. Click to enlarge.
Gallery - Animation - Real Life

Edit
Slideshow
Edit