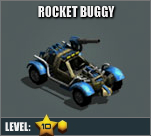 | | | | | | | |
| --- | --- | --- | --- | --- | --- | --- |
| Splash Damage | Space | Infantry | Vehicle | Air | Building | Map Speed |
| Yes | 40 | Poor | Good | Can't Hit | OK | 0.6 |
Stat Progression

Edit
Level
Upgrade Cost
Upgrade
Time
Tech
Center
Production Cost
Speed
Health
Range
Damage
(DPS)
Metal
Oil
Thorium
Metal
Oil
1
30,000
24,000
0
1
900
1,600
1.8
400
275
150
2
33,600
26,880
0
1
1,080
2,160
1.8
445
287
183
3
56,250
50,000
0
2
1,296
2,916
1.8
490
300
192
4
84,380
75,900
0
2
1,556
3,936
1.8
535
310
200
5
126,570
113,900
0
3
1,866
5,314
1.8
580
320
217
6
189,860
170,900
0
3
2,240
7,714
1.8
625
327
233
7
284,790
256,300
0
10m
4
2,688
9,686
1.8
670
334
250
8
427,190
384,500
0
4
3,224
13,076
1.8
715
341
267
9
640,790
576,700
0
7
6,000
20,000
1.8
800
350
300
10
961,190
865,100
200,000
5s
8
10,000
25,000
2.1
904
350
317
11
1,441,790
1,297,600
200,000
5s
8
10,000
25,000
2.1
990
350
348
12
2,162,690
1,946,400
500,000
5s
10
10,000
25,000
2.1
1,080
350
380
13
2,919,600
750,000
5s
10
10,000
25,000
2.1
1,170
350
412
14
2,919,600
750,000
5s
10
10,000
25,000
2.1
1,260
350
443
15
2,919,600
750,000
5s
10
10,000
25,000
2.1
1,350
350
475
16
4,866,060
4,379,500
1,000,000
2d 0h
10
10,000
25,000
2.1
1,440
350
507
Totals
0d 0h
Note : Showing Data from Non-Customized Unit
Yellow indicates increase from previous level. Underline Indicates Max Value.
Build Times & Repair Information

Edit
Level 10 War Factory Build & Repair Times Per Rocket Buggy Level
Level 1
Level 2
Level 3
Level 4
Level 5
Level 6
Level 7
Level 8
Level 9
Level 10+
Build
4m 57s
10m 24s
16m 30s
19m 48s
Repair
2m 05s
3m 19s
3m 58s
Level 10 War Factory Repair Costs Per Rocket Buggy Level
Metal
538
2,000
Oil
1,938
5,000
Times for other War Factory Levels may be calculated by adding 5% for each level below Level 10.
Effective Rocket Buggy Levels vs TurretsEdit
Related Special Ops

Edit
Name
Icon
Class
Level
Description
Time of
Effect
Thorium to
Extend Op
Light Strike Vehicles
41px
Defense
Common
12 mercenary Rocket Buggys deploy when your Base is under attack.
12h
50,000
More Information and a the Full List of Ops available here: Special Ops
Related Missions

Edit
STANDARD MISSION
Mission
Icon
Mission Description
Awards for Completion
Metal
Oil
Medals
Hit and Run
40px
Unlook Rocket Buggies.
5,000
5,000
 0
Some Missions May Not Be Available Until The Completion Of Others.
Additional Facts

Edit
The Rocket Buggy received the ability to be upgraded to Veteran Level 5 in Game Update: April 2nd, 2014.
The Rocket Buggy travels the width of the World Map ( 500 Hex's ) in approximately

4m 37s

giving it a Calculated Map Speed of 1.8 hps ( Hex Per Second ).
The Rocket Buggy has a [Definition_of_Terms|Calculated Map Speed]] of 1.8 hps which ties it with the Honey Badger and Humvee for the Fastest Map Scout Vehicle.
A Level 10+ Rocket Buggy with a Level 10 War Factory has a Repair Time of 3m 58s allowing 1 Rocket Buggy to be Instantly Repaired at a time.
One drawback to the Rocket Buggy is its wide swing when turning around.  From a stop the Buggy will go forward roughly 2 lengths when it is ordered to reverse its direction 180 deg.  This can unintentionally take it into the range of enemy Units & Turrets.
The Rocket Buggy used to be called  the "Light Strike Vehicle".
At Level 10 the Rocket Buggy gains a Higher Top Speed ( In Base ) for its Thorium Technology Advantage. However its Map Speed remains unchanged.
The Player must Unlock the Jackrabbit prior to Unlocking the Rocket Buggy.
The Rocket Buggy continues to be valued for its low Repair Time and small Space requirements. Allowing it to be useful for several Tactics including Unit Baiting and Hit and Run Attacks.
In-Game Quotes

Edit
Click Expand to View Additional Quotes
"

Fleet and aiming to kill, Rocket Buggy's are light strike vehicles equipped with Hydra 70 rocket launchers.

"



 

— In-Game description 
"

Utilizing Thorium technology to push the engine of the Rocket Buggy to new speeds has resulted in a faster hit and run that is sure to stir up chaos in the enemy lines.

"



 

— Level 10 Description 
"

These vehicles put the pedal to the medal -- ripping through buildings before the enemy knows what hit them.

"



 

— Old Level 9 Description 
Unit Voice

Edit
Click Expand to View This Section
Selecting
Drop it in gear.
It's going to be a bumpy ride.
WooHee.
Moveing
Pedal to the metal.
Floor it.
No problem.
Let's go.
Will do.
Yes sir.
Roger.
Attacking
Hit and run.
Run some more.
suck my blast
---