RADIO TOWER
Building Description
The Radio Tower sets how War Commander communicates with the Player outside of the game.
File:22RadioTower22.png
Effects of Upgrade

None - The Radio Tower, once constructed cannot be upgraded.

Building Group
Military Buildings
<< Prev
Next >>
Information

Edit
You can now build and setup a Radio Tower which R.U.B.I. will use to send you emails whenever you're attacked, a quick response is key to keeping things running smoothly and minimizing loss.
Upgrade Progression

Edit
Upgrade Experience (XP)

Edit
Experience Points Awarded per Upgrade Level
Level 1
Level 2
Level 3
Level 4
Level 5
Level 6
Level 7
Level 8
Level 9
Level 10
705
N/A
N/A
N/A
N/A
N/A
N/A
N/A
N/A
N/A
For More information on this see Experience Points.
States of Repair

Edit
Building Function

Edit
E-mail Settings

Edit
The Radio Tower allows the Player to enter an E-mail address which War Commander can use to send out optional Attack Notifications and Game News and Updates.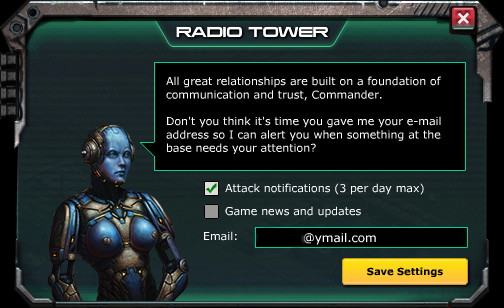 The Radio Tower sends the Player an E-mail alert if their Base is Attacked, allowing the Player to quickly come back possibly in time to defend the Attack or to find out who the aggressor was and retaliate. The Player is limited to 3 Attack E-mail Notifications from R.U.B.I. per day. You may also choose receive Game News and Update notifications. Both E-mail options can be toggled On/Off at will.
Related Mission(s)

Edit
Mission
Icon

__________

Mission Description

__________

Awards for Completion
Metal
Oil
Medals
Open Communication
40px
Build a Radio Tower.
2,000
2,000
 0
Some Missions May Not Be Available Until The Completion Of Others.
Additional Facts

Edit
The Radio Tower is the least useful Building in War Commander and serves no critical game function.
The Radio Tower may be used to visually conceal Base Defense Units from an attacker,
The Radio Tower has a Footprint of 1.5 square.
Game Quotes

Edit
"

Set your communication options.

"



 

— In-game description 
External Links

Edit
Animated Photo

Edit
Images may have been resized to fit in the page. Click to enlarge.