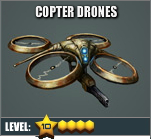 | | | | | | | |
| --- | --- | --- | --- | --- | --- | --- |
| Splash Damage | Space | Infantry | Vehicle | Air | Building | Map Speed |
| No | 35 | OK | OK | Can't Hit | OK | N/A |
Stat Progression

Edit
Level
Upgrade Cost
Upgrade
Time
Tech
Center
Production Cost
Speed
Health
Range
Damage
(DPS)
Metal
Oil
Thorium
Metal
Oil
1
150,000
180,000
0
2
8,000
10,000
1.3
400
240
267
2
112,500
135,500
0
2
5,200
6,500
1.3
460
252
356
3
168,750
202,500
0
3
13,520
18,226
1.3
520
265
400
4
253,130
303,800
0
3
17,576
24,604
1.3
580
273
444
5
379,700
455,600
0
4
22,848
33,216
1.3
640
281
489
6
569,550
683,500
0
4
29,704
44,840
1.3
700
290
533
7
1,025,200
854,330
0
5
38,614
60,534
1.3
760
293
560
8
1.537,800
1,281,500
0
6
50,198
81,722
1.3
820
296
622
9
1,922,250
2,306,700
0
1h
8
60,000
90,000
1.3
1,000
301
659
10
2,883,380
3,460,100
300,000
5s
8
65,000
95,000
2.6
1,100
320
711
11
4,325,070
5,190,100
300,000
5s
8
65,000
95,000
2.6
1,210
320
782
12
5,190,080
6,228,100
400,000
5s
10
65,000
95,000
2.6
1,320
320
853
13
6,228,100
7,473,720
600,000
5s
10
65,000
95,000
2.6
1,430
320
924
14
6,228,100
7,473,720
600,000
5s
10
65,000
95,000
2.6
1,540
320
996
15
6,228,100
7,473,720
600,000
5s
10
65,000
95,000
2.6
1,650
320
1,067
16
10
65,000
95,000
2.6
320
Total
37,201,860
43,703,490
2,800,000
0d 0h m
Yellow indicates increase from previous level. Underline Indicates Max Value.
Build Times & Repair Information

Edit
Level 10 Airfield Build & Repair Times Per Copter Drone Level
Level 1
Level 2
Level 3
Level 4
Level 5
Level 6
Level 7
Level 8
Level 9
Level 10+
Build
5m 2s
11m 00s
11m 00s
13m 12s
Repair
2m 43s
7m 16s
Level 10 Airfield Repair Costs Per Copter Drone Level
Metal
13,000
Oil
19,000
Times for other Airfield Levels may be calculated by adding 5% for each level below Level 10.
Effective Copter Drone Levels vs TurretsEdit
Turret Level
Copter Drone Level Required to Out Range
   Flak   
Machine
1
-
10
2
-
10
3
-
-
4
-
-
5
-
-
6
-
-
Image
        Name        
Icon
   Class   
   Level   
Description
Time of Effect
Thorium to Extend
Death Drones
Attack
Uncommon
5 Wing Drones & 5 Copter Drones join your attack after you deploy ground Units.
1h
100,000
More Information and a the Full List of Ops available here: Special Ops
Related Missions

Edit
STANDARD MISSION
Mission
Icon
Mission Description
Completion Awards
Images
Metal
Oil
Pre
Post
Drone Combat
35px
Unlock Copter Drones
8,000
6,000
X
Some Missions May Not Be Available Until The Completion Of Others.
Additional Facts

Edit
The Copter Drones received the ability to be upgraded to Veteran Level 5 in Game Update: April 2nd, 2014.
The Copter Drones may be placed in the Drone Silo.
When placed in the Drone Silo the Copter Drones become one of five Aircraft able to be used in Defense of the Player's Base.  The other Aircraft are : Wing Drones, Reaper Drone, Slayer Drone and the Halcyon.
Copter Drones receive a 100% Speed increase at Level 10.  This high Speed combined with its low Space Requirement commonly prompts players to keep at least one in the Airfield as a Bait Unit.
Level 10+ Copter Drones with a speed of 2.6 are the second fastes moving Hover Aircraft behind the Reaper Drone with a speed of 3.0 with a tie speed of valkyrie level6+.
A Level 10 Airfield will hold up to 40 Copter Drones.
The Copter Drones and the Wing Drones are the only units in the game referred to in the plural.
Advantage: The large number of Copter Drones that can be deployed makes them a very big threat to the Flak Turret and Stinger ( both in and out of Watchtowers ) if they are spread out to form a 1/2 circle when Attacking.  This allows the damage from these defenses to be limited to relatively a few units.
Disadvantage: Copter Drones have a roughly 1 sec pause in firing about every 3 sec. This allows defense units to either get into range or to come to a stop and fire.
In Game Graphics show the Copter Drones and other helicopters violently spin out of control and exploding when they are shot down.
The Copter Drone has 4 circular propellers, 2 "eyes", and 1 Machine Gun. The Reaper Drone has 2 circular propellers, 4 "eyes, and 2 Machine Guns.
Related Pages

Edit
In-Game Quotes

Edit
"

Copter Drones are helio drones that sink their talons into targets from medium range with their L86 LSW machine guns.

"



 

— In-game description 
"

Aerodynamic changes to the Copter Drone has increased this drones speed placing enemies in firing range much quicker.

"



 

— Level 10 Description 
---